EHarmony Review 2021 – Best for Serious Relationships
Why Choose eHarmony?
To find someone serious to get into a relationship; is becoming tougher nowadays.
We are more concerned about our jobs, having fun, finding flings, and any other activity except serious dating.
The real reason is commitment, as dating simply takes too much out of you!
There's just no time to allocate the emotional commitment for serious dating.
Plus, finding the right match can seem like an impossible task for most people.
This is the reason why eHarmony was founded by Clinical Psychologist Dr. Neil Clark Warren in 2000.
EHarmony's mission is to provide a chance for a possible long-lasting match.
It collects one's details and compares them to others with similar likes or dislikes/ personality traits.
The site aims to offer the most compatible match between two individuals with similar pursuits in love.
Finding a partner has become a simpler task full of adventure, fun, and socializing!
All You Need To Know About eHarmony
EHarmony is the brainchild of Dr. Neil Clark Warren after many couple counseling sessions.
He states that this was his way of aiding people to find lasting love and relationships.
The idea came about in 1997, but it wasn't until 2000 that the dating platform officially launched.
EHarmony has a patented matching algorithm that helps match subscribers with potential dates.
It accepts memberships from individuals of all ages as long as they are above the legal age.
The site has since gained widespread influence and subscribers from over 200 countries in the world.
EHarmony has over 20 years in the dating market and assisted countless people to find true love.
But don't just take my word for it, here are the many success stories under their wing.
EHarmony also earned the iDate Awards in 2018, which further proves the quality of dating services.
The website as a whole commits to SSL security and dutifully carries out authentication tests to weed out fake profiles.
It has put in the effort to set up ample security measures to protect against fraud.
EHarmony has many features that'll allow you to connect with your potential partners.
You can start with a video date, message on the board, or view individual profiles before going out on an actual date.
Plus, the compatibility system offers a 100% familiar personality according to your profile or nature. Thus, there is little room for mistakes.
What Makes eHarmony Different
EHarmony has many highlights that make connecting with potential partners satisfying and straightforward.
The most endearing is their smile feature that allows you to send a smiley as the starting point of your conversation.
It adds a cute touch and saves you from stressing out over how to start a conversation.
EHarmony also displays unique ice-breaker questions to help you make the first contact.
If the first date in person is stressing you out, why not have it as a video date?
Meet your date for the first time via video call before agreeing to meet face to face.
Sound them out and build rapport before you proceed with a face-to-face interaction!
This is for those who find it tough to step out of their comfort zone and meet a total stranger.
It's not always that your matches are compatible, as no one can maneuver chemistry.
EHarmony also has the 'What if?' feature built-in.
Allowing subscribers to get extra matches outside their personality comparisons but close enough for a possible match.
However, this feature is only accessible if you have a premium account.
Signing Up at eHarmony
Signing up at eHarmony starts with a human test to eliminate the chances of a bot signing up.
The whole process takes a lot longer compared to other dating sites such as Zoosk and JDate.
The reason is, that it makes sure to gather all important information before allowing newcomers to browse and look for matches.
Every newcomer gets two options when registering for eHarmony.
You can choose to use your email address or connect your Facebook account to fill in the essential information.
Connecting through Facebook helps simplify the sign-up process.
Either way, you still have to complete the personality questionnaire required by every newcomer.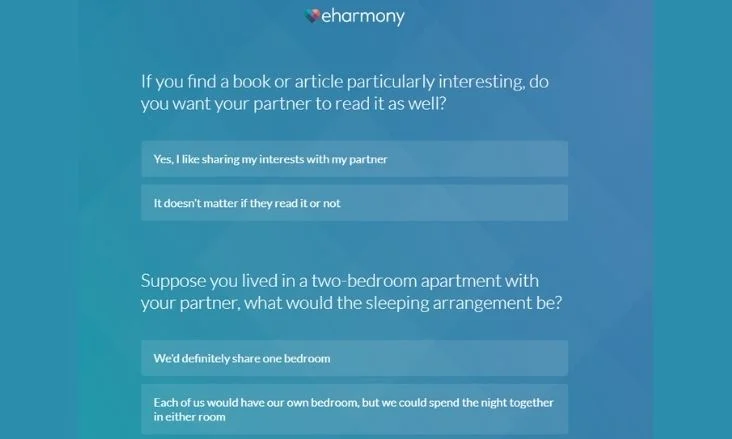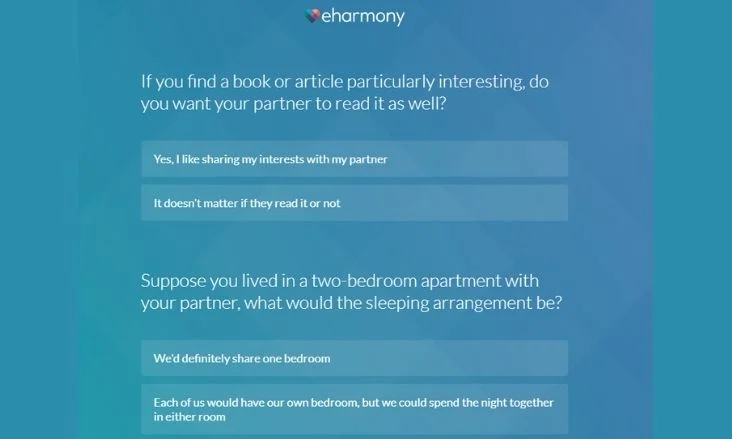 The personality questionnaire is crucial for the algorithm to determine compatible matches.
After inputting the necessary information, you'll be directed to the personality test.
They're usually situational questions in the form of "what would you do if…?"
Compatibility quizzes are questions that lean towards the traits you would like your matches to have.
You can specify the height, body type, nationality, and other quantifiable characteristics in your matching preferences.
Once it's complete, the algorithm helps generate a profile based on the information given.
The entire process takes about 10 minutes to complete. And the last step is to upload your profile picture.
Now, the compatibility system is off to work and you can start matching!
Matching Process in eHarmony
EHarmony utilizes messages as the only means of communication.
However, sending personal messages is a feature only available for premium members.
The compatibility matching system used by eHarmony is very straightforward.
It doesn't have anything out of the ordinary such as the "Have you met" feature in EliteSingles.
But that doesn't stop you from making a lasting impression on your match.
You'll receive a list of potential matches daily. If you do not find a compatible match, you have to wait for the following day.
Free users are only able to match individuals with 100% compatibility, reducing the pool of matches.
Premium users, on the other hand, will be able to meet people out of your compatibility score.
Free users will be able to send winks and 5 site-generated icebreakers to initiate contact and add people as favorites.
You will be able to see messages received but unable to reply to them.
Only when you are a premium member, will you be able to send personal messages, view profile photos, and access the full date's profile.
It also has the added advantage of finding users who are recently online or currently active.
Eharmony offers a search filter that allows you to narrow down your matches based on age, location, town, or city.
Using this information, you can contact matches in your vicinity and ask them for a date.
Profile Quality in eHarmony
EHarmony takes pride in the profile quality of their matches.
The algorithm works in a way that the more information provided, the more accurate the compatibility rating.
This is also the reason why newcomers are required to complete a personality questionnaire.
Every answer you provide is recorded and is displayed in your dating profile.
To ensure you find truly compatible matches, it's important to answer each question truthfully.
Additionally, your profile has the written "About me" section.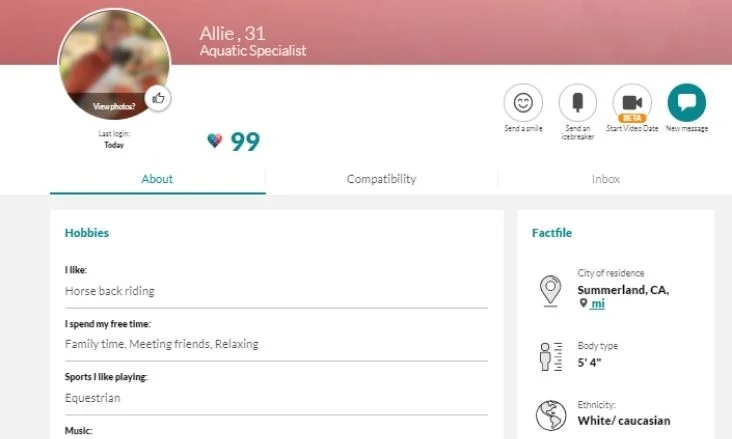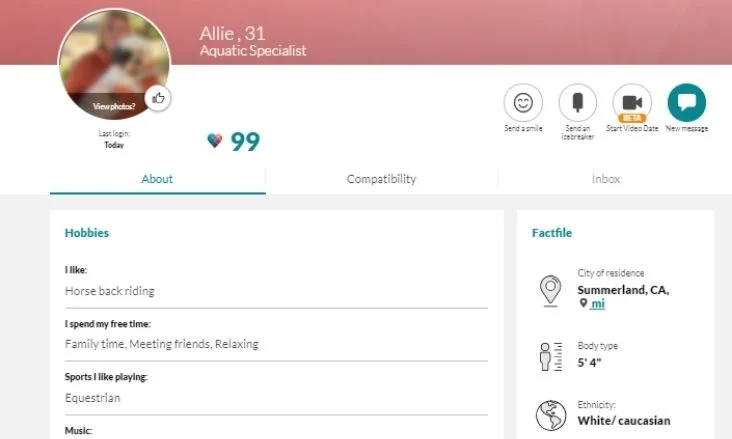 Which contains information about your preferences, and the level of compatibility with every match.
If you take the time to browse through other member's profiles, you will find that most are filled comprehensively.
There's also the compatibility tab which shows the compatibility level between you and a specific match.
You'll be able to see how much of the match's relationship outlook matches yours.
Make use of this information to get a grasp of your match's values and if it aligns with yours.
This information will put you at a much better advantage when you do meet in person.
EHarmony Mobile App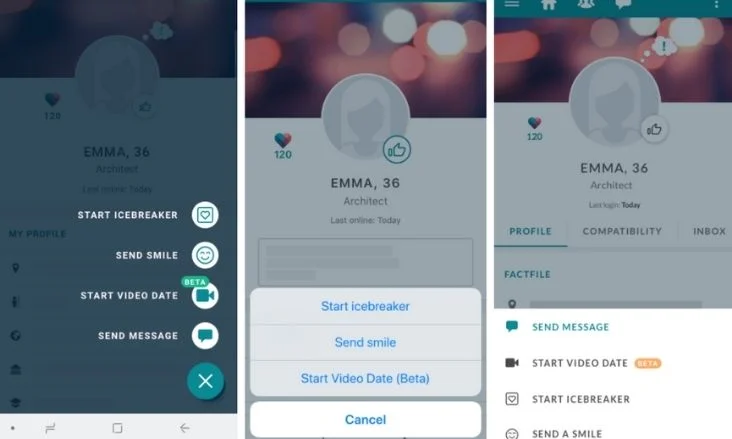 When it comes to the eHarmony app, the interface is consistent with its web counterpart.
It's clean and easy to navigate, with minimal ads for a non-intrusive user experience.
You can create, upload, and generate matches, and it allows easy scrolling through your match and favorites list.
Also, it's free to download for both Android and Apple devices.
All features present on the website are made available in the app, hence it's suitable for users on the move.
However, profile photos are still blurred out on the app, and you can only view them if you're a premium member.
The mobile app is convenient, fast, and provides a secure means of getting a date on the move.
EHarmony Pros and Cons
Pros
Unique features such as video dates
Precise and Patented compatibility system
Straightforward website and Mobile App for easy navigation
Comprehensive personality evaluation for ideal compatibility
Cons
Key features are only available to premium subscribers
Matching is purely based on the compatibility algorithm
EHarmony Pricing
You can register and create your profile on eHarmony for free.
With that, you'll be able to view profiles, send winks, add people as favorites and send 5 generated questions.
However, the free account still has its restrictions such as profile pictures being blurred out.
For that, you'll have to purchase a premium subscription.
You can then see who added you as favorites, who viewed you, get matches outside your set preferences.
Most important of all, you'll be able to view profile pictures and send unlimited messages.
Here are the subscription charges for the premium:
| Duration | Subscription Fee | Total |
| --- | --- | --- |
| 6 Months | USD $55.90 | $335.40 |
| 12 Months | USD $17.95 | $215.40 |
| 24 months | USD $12.95 | $310.80 |
eHarmony Premium
Note that the reflected pricing fluctuates and there's a disparity because of ongoing promotions.
It's a good idea to wait out for promotions such as this as it'll give you substantial savings.
Reviews From Users
eHarmony was both disappointing and rewarding. Most of the guys I met were not anyone I would like to date, but my last match will hopefully last a lifetime. I liked the profile that eHarmony uses. It was very informative and educational. It provided a lot of insight about myself.

June 3, 2020, by Regina
I married The one I met. Almost 10 years now that we have been married. I think the questions, etc. if you answer truthfully will help out a lot. The process is a bit lengthy but once you get through it it seems to work. Not sure what else to say but try it to see for yourself. I tried Match but that was a big crapshoot. This is all 10 yr ago so not sure how much things have changed since.

June 7, 2020, by John
Final Verdict
EHarmony is one of the best dating sites available online.
The founder's belief that love and relationships can be long-lasting is reflected in the site.
Unique features like video dates allow users to know their partners before going on physical dates.
The registration process is simple, the Q&A section is one of a kind, and the quizzes are a good way to meet compatible individuals.
Plus, you get new matches every day. Improving your profile on the dating site is easy.
Register for an account at eHarmony here, and kickstart your search to find your ideal partner.