EliteSingles Review 2021 – Best For Working Professionals
Why Choose EliteSingles?
Learning, working, and dating are three aspects of a person's lifestyle that do not complement one another.
You often hear people complain about lacking the time to date while in school and afterward when pursuing their careers.
The primary issue is that the day-to-day of a working adult spans from 9 a.m. to 5 p.m. 
Many professionals extend their working hours till late in the evening, and some even head to their workplace before 9 a.m.!
Here's the problem. These educated professionals have no spare time to socialize.
And not many would want to date their colleagues as it'll become weird in the case of a breakup.
Many turn to dating online after considering its increasing success and popularity.
Even so, professionals find that they don't even have time to look for matches that fit their criteria.
This is where EliteSingles comes into the picture.
EliteSingles aims to provide you with a dating option that will fit within your busy schedule.
And match individuals like you with compatible professionalism and education levels.
The difference between EliteSingles compared to other dating platforms is they heavily focus on compatibility for a chance of finding lasting love.
EliteSingles takes into account all your requirements, personality type, qualifications, etc., to find the most suitable dating partner.
So that the match will not be restricted to a single date but to help you find your eventual life partner.
Using this secure platform, you can get a date within a short period.
No more struggling to approach a girl on the streets to ask for a date. EliteSingles takes care of that.
All You Need To Know About EliteSingles
EliteSingles began back in 2008.
The dating site launched in Berlin and has since expanded to 6 more countries around the world.
EliteSingles has around 170,000 active users on its platform consisting of working professionals and highly educated.
Because of this demographic, 90% of their users are over the age of 30.
EliteSingles adopts a fraud detection system that helps eliminate fraudulent or fake profiles by people with dubious intentions.
The site verifies an individual's profile, authenticates every ID used on the site, and encrypts sensitive data.
They have excellent customer care service to resolve any issues when using their site and are available every day during working hours.
You can enjoy local dates in major cities such as New York, Los Angeles, San Francisco, Washington DC, Boston, and Chicago.
What Makes EliteSingles Different
EliteSingles offers a unique registration process in which you are required to answer specific questions to determine your personality.
This is necessary for their matching algorithm when searching for potential dates.
Unlike some online dating platforms which accept anyone, EliteSingles has a stringent screening process.
You must meet their requirements in education and career prospects before you can even start matching.
This additional level of screening acts as an excellent security system to ensure quality dating profiles.
Its purpose is to eliminate the chance of fraud or matching fake profiles, which we commonly see on other dating platforms.
Also, it assures the highest level of safety for your personal information in their database.
Of course, it's not without flaws as interested users will not be able to use the platform if they do not meet the criteria.
Signing Up For EliteSingles
The signup process is straightforward but you do need to take a personality test.
Therefore, it'll take a tad bit longer to complete as compared to other dating sites.
The personality test takes up to 20 minutes for you to answer all questions.
And only then will you complete the full registration and be able to check for potential dates.
This lengthy process is to define your personality, likes, and dislikes to provide a more compatible match.
You start by filling up the form on the website's main page.
Indicate that you are of legal age, have a valid email, your gender, and who you are looking to date (man or woman).
It requires you to specify details such as home location and office location so they can match you with someone in your vicinity.
You will also be asked to disclose your income, job title, and qualification type.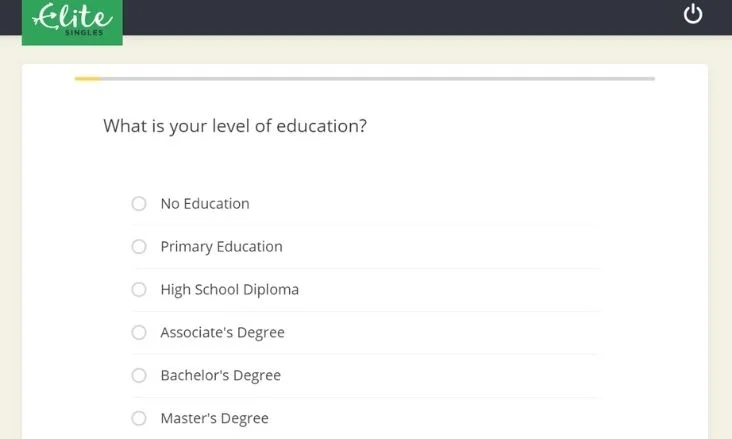 This is the case as EliteSingles views dating through the lens of financial and educational achievements.
What follows is a series of questions in the form of the above-mentioned personality test.
The questions are regarding communication, interests, and emotions to make you picture a long-term relationship.
You will hypothetically go through day-to-day situations such as arguments with your partner, being late for a date, etc. 
Or lighter questions such as: how you picture your first date to be, whether you would try to be the first to kiss, etc.
Then it records your reaction to such situations based on the answers you gave.
Narrowing down your personality traits to determine if you are dominant, temperamental, warm and social, and more.
EliteSingles does leave no stone unturned to get you the most suitable match.
Next, you get to list the most desired personality traits you are seeking in your to-be partner.
This summary helps to enumerate your relationship and craft your dating goals.
After all that is done, you are ready to view your matches!
Matching Process in EliteSingles
The EliteSingles matching-up process is one of a kind.
It classifies your potential matches into three categories: "Matches", "Have You Met" and "Visitors."
You can have several ways to search for profiles, depending on how much you value the matching score.
EliteSingles makes an in-depth assessment of your personality, taking factors like current location, age, and profession to recommend up to 7 matches per day.
It'll also show you the level of compatibility you have with your partner and common personality traits based on the questions you have answered.
Unlike other sites such as eHarmony and Zoosk where you can peruse the pool for love interests.
With EliteSingles, you have to wait for their recommendations.
But once EliteSingles does recommend someone to you, you can get a complete view of their profile.
'Have you met' offers a chance for you to meet dates that meet specific criteria but are not your exact match.
As the phrase goes: "Opposites Attract".
Even with non-matching personalities, chemistry can still bring two people together.
Because of this, the "Wildcard" feature under "Have you met" is meant to give you a shot to find such a match. 
You get 20 wildcard (extra) matches daily in addition to your usual set of 7 matches.
What's more interesting is the 'Visitors section'. But, it's a feature only available to paid premium accounts.
Simply put, It gives you access to find out who has been checking you out.
From viewing recent visits to your profile, checking your chats for unread or read message status, and more.
Needless to say, it makes it easier to make the first move when you already know someone's interested.
Profile Quality in EliteSingles
When it comes to profile quality, the best option is to register for the premium version of the dating site.
A Premium subscription allows members to view images from other account holders and potential date options.
Available date profiles have all the essential details, and you can only view the date with a premium account.
You can edit the account and change any data anytime. Login and edit using the pencil-like icon on the home page.
The profile can match anything you want but remember you have to verify your id for authentication.
Any pictures or details you enter are not given to second or third parties unless they are a compatible match.
The profile page contains your personality traits and physical attributes answered during registration.
All you need is to click the Personality Profile Button on the left top of your account profile page. Every single detail you keyed in the questionnaire is available in this section.
EliteSingles Mobile App
EliteSingles is a modern online dating platform that aims to provide maximum convenience for its users.
One of the ways it does this is through its mobile app.
It is free to download on Google and Apple stores for both Android and iOS-enabled devices.
The EliteSingles app has all the features that are available on its desktop version. It's user-friendly, fast to load, and highly intuitive.
It's mobile-optimized and you can easily view potential matches on screen without the worry of information omission.
You can send winks, and create a favorites list, like profiles, message potential dates, and much more.
You can even sign up using the app; which follows a similar process to its desktop counterpart.
Plus, the app is small in size so it won't occupy unnecessary space on your phone.
With the EliteSingles app, you can now set up and plan your elite dates on the go.
EliteSingles Pros and Cons
Pros
Perfect for pairing educated people with hectic working schedules
Sleek personality survey for a more comfortable compatibility match
Every profile undergoes verification and authentication
Perfect for individuals looking for mature partners
Intelligent Matching algorithm for serious dating
Cons
Difficult to verify claims regarding education or occupation
Need a premium account to access key services and other site features
EliteSingles Pricing
Creating a profile with EliteSingles is free.
Free users can receive matches, like profiles, and send match icebreaker messages.
However, you do not get access to one of its main features – Not being able to message potential dates.
One must subscribe to see likes and visitors, but will not be able to read messages or even view photos.
To get full access, you need to subscribe to any one of their premium plans.
The subscription ranges from 3 months to 6 months, up to a whole year, and is paid upfront.
It doesn't help that EliteSingles' prices sit toward the higher end among premium dating services.
The subscription fees are as follows:
| Duration | Subscription Fee | Total |
| --- | --- | --- |
| 3 Months | USD $57.95 / Month | USD $173.85 |
| 6 Months | USD $44.95 / Month | USD $269.70 |
| 12 Months | USD $31.95 / Month | USD $383.40 |
EliteSingles Premium
Reviews From Users
I highly recommend Elite Singles! For me, the experience was exactly what I expected! I met someone with who I can see myself being in a relationship for years to come. Only after 4 months, our relationship grew into something beautiful based on respect, trust, friendship, and love!

July 28, 2020 by Gabriela Jacobsen
The questionnaire was straightforward and led to a higher percentage of matches who shared my interests. The matches could be filtered based on whether there was a photo or not, and I liked that the premium membership allowed me to see which members had also viewed my profile. The matches exceeded the location preferences that I set, but the quality of the matches seemed relatively higher than on other sites. I met someone I'm interested in during my first membership period.

Oct 4, 2020, by Rose
Final Verdict
Looking for a compatible partner is not as easy as it might seem.
Especially when you're a working professional with a hectic work schedule from morning to night.
EliteSingles aims to find perfect matches for people who don't have the time to pursue romantic relationships.
If you placed your romantic pursuits on hold to concentrate on your career and now you're in search of a partner.
Then EliteSingles may just be the right place for you.
A compatible lover is hard to find, but with accurate data made available, it might just be the push you need.
Sign up for EliteSingles, and be on your way to secure the elite date you've been looking for.