Ultimate Guide to Approach a Girl – 5 Steps To Success
One of the most nerve-wracking parts of dating.
Is when you approach a girl you like for the first time.
When placed at the moment just before the approach, most guys get nerve stricken. 
All the prep that they have done – all gone due to the fear of rejection.
You might think there is a secret formula to approach a girl every time. 
But sadly, that's not how it works…
Different settings can play out very differently. 
And each requires a different approach to make your first move effective.
Despite that, here are some pointers to note when you approach a girl.
Identify the girl and her surroundings to determine the best moment to approach. Contemplate your advantage and establish the initial contact. What's left is 30 seconds of insane courage, for you to go up and approach her. 
Let's delve deeper into the things to take note of when you approach a girl.
And how you can apply these tips to be used in different settings. 
Here's a five-step process on how to approach a girl, both on the street and in a bar. 
The process varies differently so make sure to read it to the end! 
When You Approach a Girl On The Street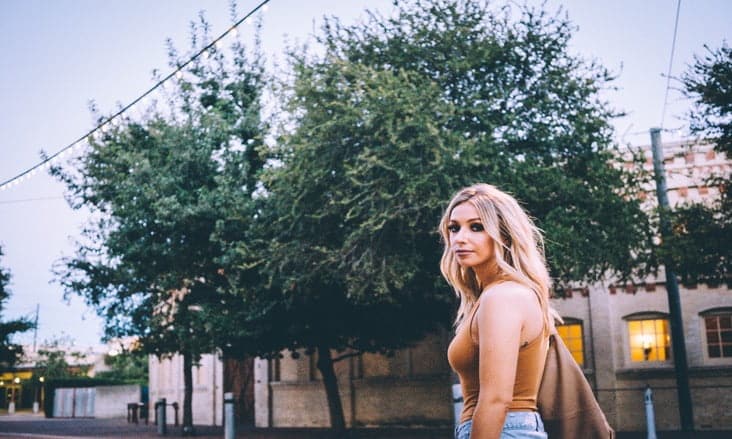 Most won't even consider the possibility to approach a girl on the street. 
The reason being… they deem it as an impossible task. 
"There's no way any girl will bother when I approach her."
That's what they tell themselves again and again.
I believe we've all been there. The truth is, there's never a guarantee.
It's either you approach the girl or watch her slip away.
Here are the 5 steps, on how you can approach a girl on the street.
1. Observe The Situation
Before making your approach, take a few seconds to observe.
Observe what the girl in question is doing. 
Is she in a rush or does she look very preoccupied? 
Is she alone or with a group of friends? 
What you're doing is you're sounding her out.
Taking notice of all variables that will affect your approach.
All are things you need to look out for before even making your move. 
If you advance at the wrong moment, even the best pick-up line won't work.  
On the street, everyone is going about their day-to-day. 
Being picked up is definitely not the first thing on their mind. 
To ensure you have a higher chance of success, make sure she has the free time when you go up to her. 
This is very important! 
By observing the situation, you can decide the best time to approach a girl.
2. Find Your Advantage
Once you've observed the situation, try and find some common ground.
 Use the common ground to your advantage during your approach. 
Is she sitting reading a book in the park, written by your favorite author? 
Or is she wearing a t-shirt with your favorite band printed on it? 
Try to find something, however small, that will make a good conversation starter. 
This will help you craft what to say when you do approach a girl. 
How often do you go up and introduce yourself, and next at a loss of what to say?
While the girl looks at you, wondering what you're going to say next? 
Find your advantage even before you approach a girl.
Doing so ensures you'll never find yourself in such a sticky situation. 
Even if the girl likes what she sees, you'll blow your only chance without a continuation. 
As the quote goes, "If you know the enemy and know yourself, you need not fear the result of a hundred battles" 
In the case of approaching a girl, this is definitely true. 
There's no need to worry about the things to say when you approach a girl.
The fact is, every girl and every setting is different.
Figure out what to say, and tweak it according to the setting.
You can make this easier by finding your advantage.
In addition, attention to detail is an impressive trait to showcase.
3. Thirty Seconds Of Courage
You might have done all the preparation.
But all is for naught if you do not see through it! 
It's is the most important step that one must take when you approach a girl.
In your mind, you might have visualized the perfect scenario and the perfect moment to go forward. 
You keep telling yourself to wait it out, to see how things unfold. 
Before you know it, she has left your sight and is nowhere to be found. 
What I'm trying to say is, even if you can't seem to find your advantage.
You can make the approach possible by adopting a positive mindset! 
Being able to connect right away is the dream.
But if you are not able to, are you going to let this chance slip by? 
Think about the possibility that you might never see her again. 
Is this something you want to miss out on?
You only need thirty seconds of insane courage to approach a girl.
What comes after is how you hold a conversation with her. 
But if you don't have the courage to approach, talking to her will be nothing but a dream.
Remain calm and have a relaxed composure when you approach a girl.
Know this… you have absolutely nothing to lose! 
Never try you would never know, and if it doesn't work out, at least you tried.
Any girl would be impressed by the courage you displayed.
For you to walk up to her and talk to her on the streets. 
This is something that not many guys can pull off.
I saw this really cute girl while I was in Japan. A staff at Uniqlo and busy with her tasks – to the point she didn't even take notice. I knew my chances were bleak as I'm wasn't able to converse in Japanese. I steeled myself and went ahead to chat her up.

Our conversation was comprised of broken English and hand gestures. But even so, I got her number as she thought my approach was cute. And with that, she became my date and accompanied me throughout my Japan trip.
4. Be Yourself In The Approach
You've gathered your courage, now it's time to make the first approach.
Adopt a casual demeanor to relieve any initial awkwardness. 
This is important as being uptight will only worsen the situation when you approach a girl.
Think about it… a random stranger approaching a girl on the street. 
Would she feel comfortable if the person is tense and serious?
 The same logic applies when you approach a girl to talk to her.
Kick-off the conversation by giving her a genuine compliment.
Or use your common interest to your advantage. 
Make it a point to appear genuine in wanting to know more about her. 
Most guys fail at this stage because they forget to be themselves. 
What makes someone special is their individuality. 
That's what makes you stand out from the million other guys out there.
Yes, she might be a little surprised.
That's only normal when you approach a girl in a public setting.
So try to be as nonchalant as possible.
And make sure the situation doesn't become uncomfortable for her.
5. Keep The Conversation Short
Out in public, most people are busy and have somewhere they need to be. 
It's great that you're talking to her, that's a great start. 
But don't make the mistake of taking up too much of her time.
You never know if she may be rushing off to work or to meet someone else. 
If you keep looping the conversation, you'll end up annoying her.
Even when you approach a girl, she doesn't know what you're trying to do!
Learn to gauge her interest level while having the conversation.
From there, evaluate how the conversation is going between you both. 
Is she receptive to your approach? Is she responding to your questions?  
If her body language and tone of voice seem positive, don't waste time and just ask for her number. 
The whole purpose to approach a girl is so that you can get a chance to meet up again.
Don't forget to ask for her number!
Here are 4 methods you can try to make it easier to get her number.
When You Approach a Girl In The Bar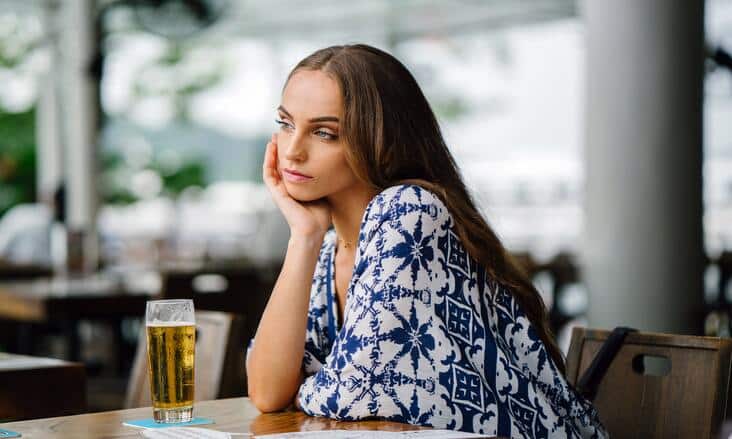 Most guys are more used to picking up girls in the bar. 
Why? Because everyone is there to have fun!
It makes the approach so much easier.
And girls in a bar will be more receptive to your advances. 
HOWEVER, every guy will be there to make use of this setting.
This increases the challenge because there is so much competition around. 
So what can you do to increase your chances?
Here are the 5 steps to take to approach a girl in the bar.
1. Observe The Situation
Similar to the approach in public, the first step to take is to observe the situation. 
Isn't a girl out at the bar more receptive to a guy approaching? 
Yes, that is true but there are some red flags to look out for. 
Try to figure out if the girl is with her boyfriend or husband.
And observe the other guys that are already talking to her.
Tread carefully as the last thing you'll want is to get into a scuffle and waste your night.
Is she in a group of friends, are they all girls, or is it a mix of guys and girls? 
Pick up such indicators even before you walk over to introduce yourself.   
Observe how many people she appears to be with.
And decide for yourself the best time to make your approach.
2. Approach The Group, Not Her
It's unlikely someone is at a bar and drinking alone.
So your best bet is to approach the group as a whole.
I cannot stress how important this is!
It might seem intimidating to approach a whole group but think about it.
They are a group of friends that are having fun. 
If you just walk up and loop the girl away, the friends will not be happy.
And that will not end well for you.
Embrace and respect her group of friends by introducing yourself. 
A good start is to make small talk with everyone in the group. 
Do not keep anyone excluded.
The aim is so they'll become comfortable with your presence.
Think of it as you're out to make a new group of friends at the bar. 
To have fun, to have a few drinks. That's the mentality you need to have. 
And we all know girls like to encourage their friends to meet a new guy!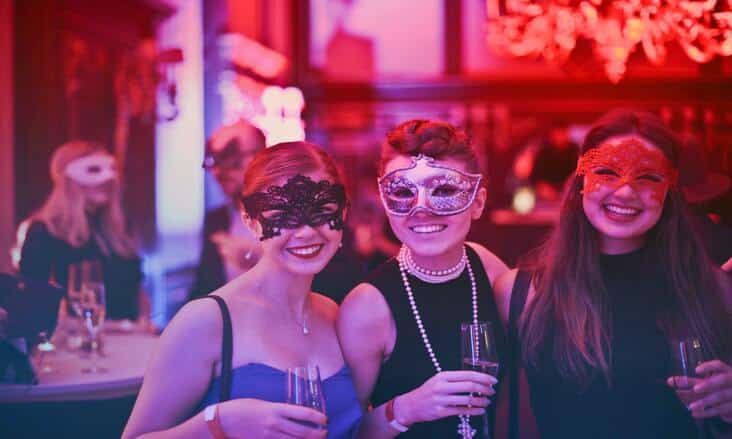 3. Add To The Positive Energy
Undoubtedly, the group is having a fun night out together. 
If not, they would not be at the bar in the first place.
What you want to achieve is to add to the positive energy.
The last thing you want is to affect the group dynamics. 
How are you gonna do this? 
Add value to their conversations through positive interactions. 
When all else fails, there are always drinking games to fall back on. 
Do not keep your eyes fixated on the girl you are interested in.
As though you're a predator watching its prey. That's just rude!
Make an effort to talk to everyone in the group in turn.
So that they'll welcome you into their group. 
You need to add real value, as a fun person to hang out with.
4. Subtle Cues To The Girl You're Interested
After you have made it round to the girl you are interested in.
Start by treating her in the same manner as her other friends. 
Do not make it obvious right away, as this will lead to a few results. 
1. The overprotective guy friends will start to get in your way.
2. The girls will start taking glances at you to size you up. 
Suddenly, you're at the mercy of the group and that's not a good position to be in. 
What you should do is once you're engaged in conversation, be subtle about showing your interest. 
Work your way up to have a light conversation.
When things are progressing, start to ramp up your charm a little more.
By now she'll have noticed, and you may have even attracted her attention.
This gives you an advantage as this time around, it is her who's interested to converse with you. 
Look out for these 20 surefire signs to tell if the girl likes you.
When a girl is keen to talk to you, her friends will know it. 
There will be less obstruction from them.
As it is the girl herself who's interested this time around.
5. Have a Good Time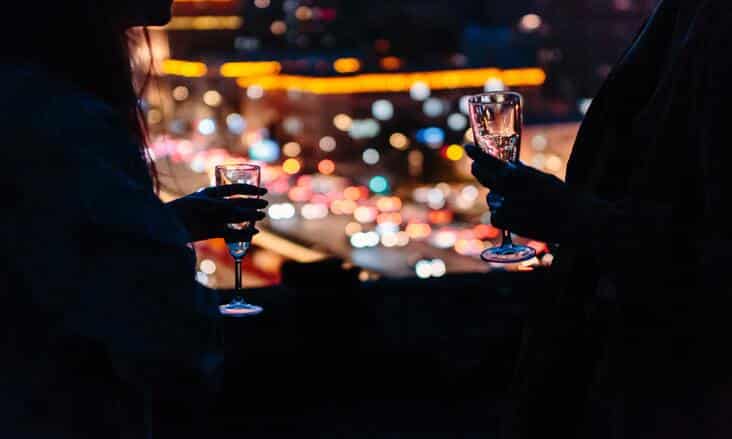 Lastly, and probably the most important thing of all is to have a good time. 
When everyone is out at a bar or club, they all have one thing in mind. 
And that is to make full use of the evening to have a great time.
That should be the top priority for you as well. 
Do not spend the whole night thinking of how to approach a girl.
Instead, go with the flow, and take any opportunity to know the girl better. 
You should place having a good time, above all else. 
Because if you are not, the people around you will feel it. 
For her to notice you, the method is to portray the real you who's out to have fun.
Here are 6 more tips on how you can get the girl to notice you.
Instead of pondering on how you can approach a girl.
Therefore, make it a point to have a good time! 
It's ironic because this will increase the chance of her wanting to keep in contact.
Even after the evening is over. 
More Dating Tips & Tricks To Get The Girl
Getting the girl to fall for you can be straightforward, but there are a lot of things you need to get right. Use these articles to further up your dating game:
To Sum It Up
If you do get rejected, don't take it personally or let it get you down. 
Understand that this could be due to many different factors.
And often, it's something that is very much out of your control.
Don't let a single rejection affect you and crush your confidence. 
It happens to even the most experienced guys out there. 
What's important is how you handle the rejection. 
Whatever you do, be a gentleman and respect her decision.
Even if you face rejection, you need to make a graceful exit.
And there you have it, the ultimate guide on how to approach a girl.
Not just in the bar, but out on the streets as well.
Apply these concepts the next time you are nervous about the approach.
Everyone has fears when it comes to the first time they approach a girl.
Understand the concepts and practice your approach.
You will surprise yourself with the results! 
Regardless of the setting that you are to approach a girl.
Remember to stay calm and believe in yourself.