How To Get a Girl's Attention – 8 Proven Tips
You have a massive crush on this girl, but she doesn't even take notice of you. 
Have you ever encountered this predicament?
Feeling insignificant because your crush does not even throw a glance in your direction. 
The feeling really sucks… some men can attract women in a heartbeat.
But for most of us, we need to bend over backward.
So how do you get a girl's attention?
Be a confident, charismatic man that treats his lady right. That's the key to get a girl's attention. Make a great first impression by stand confidently and having good manners. Treat her as an equal and be relaxed around her presence.
Get a Girl's Attention Without Talking To Her
First impressions matter. A LOT.
It can be the single factor that makes or breaks your approach. 
A good first impression is imperative when you want to get a girl's attention.
Here's how to create that remarkable first impression for yourself. 
Soon enough, you'll be able to get a girl's attention without even talking to her!
1. Dress To Impress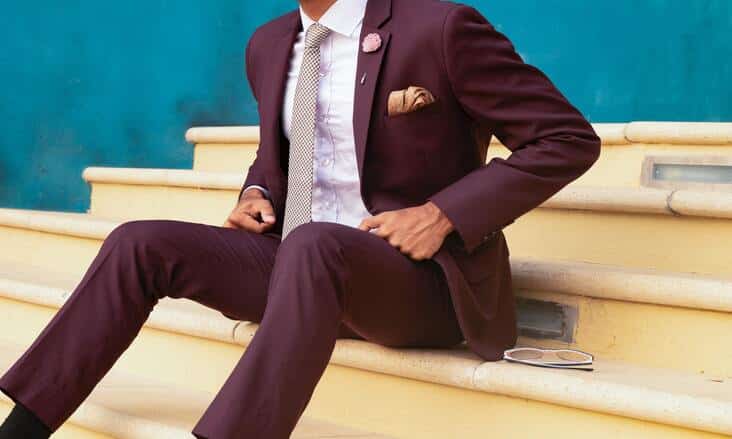 No matter how superficial that sounds, the first thing girls notice is your appearance. 
But we can't blame them, it is even more true for us guys. 
You don't need the physique of a model to dress to impress. 
What matters is to find a style that suits you as an individual. 
Are you classy? A sporty guy? Or would you suit the rugged look?
You have to figure out the style that suits you best. 
Be presentable, and dress for the occasion. 
Grooming is also very important. 
You wouldn't want to dress to the nines but lack personal grooming. 
Keep your hairstyle neat and your nails clean.
A good dressing sense will compliment your personality.
And helps to bring out the best in you! 
Put effort into grooming to make yourself more presentable. 
Find a style of dressing that fits and you'll be on your way to get a girl's attention
2. Maintain a Good Posture
Nothing is more important than for a man to have good posture. 
Avoid slouching your shoulders at all times. 
Stand tall and present yourself as a confident individual.
A man who dares to face the world and all challenges that comes his way. 
Not to mention, a confident man is sure to get a girl's attention.
Give a confident vibe by maintaining a good posture and you'll increase your attraction.
3. Show Off Your Charisma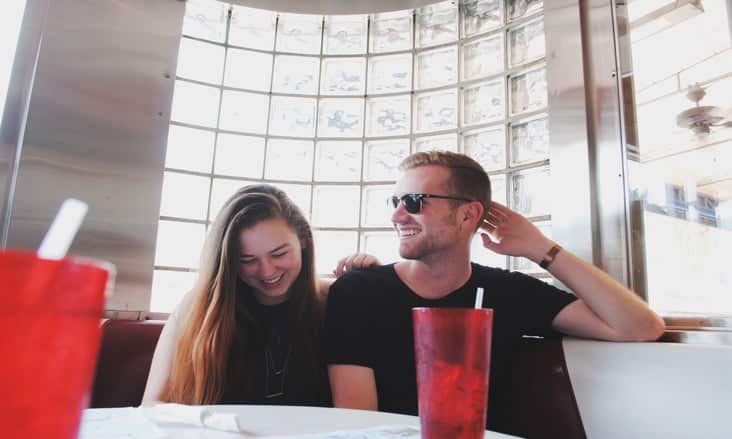 You should be at your best regardless of who you are interacting with. 
Have a positive attitude, wear a friendly smile, and make kind gestures.
You should not take impressing a girl as your priority. 
Instead, focus on working on yourself and build your charisma. 
When you are interacting with others, don't be too critical.
Girls can discern if you are a people person. 
By showing your charisma, you'll naturally be able to get a girl's attention.
4. Eye Contact Is Key
Eye contact is critical when you want to get a girl's attention.
Sources state that eye contact not only creates but deepens attraction.
By locking your eyes on her, you can show your interest without even uttering a word.
As the saying goes, the eyes are the windows to the soul. 
If you like a girl, then don't be shy to give her a friendly gaze. 
But, don't keep your eyes fixated on her. 
You wouldn't want the "creepy stare" to scare her away.
Pass her a warm glance a couple of times, if she notices, smile at her. 
This will signal your interest and is looking to have a conversation. 
If she does smile back, then congrats, you've played your cards well!
How To Get a Girl's Attention After You Approach
You managed to get a girl's attention with your innate charm. 
But what's next? 
When you're interacting with her, it takes more than a simple gaze to build attraction.
And you definitely do not want to make any mistakes to ruin your chances.
5. Manners Make a Man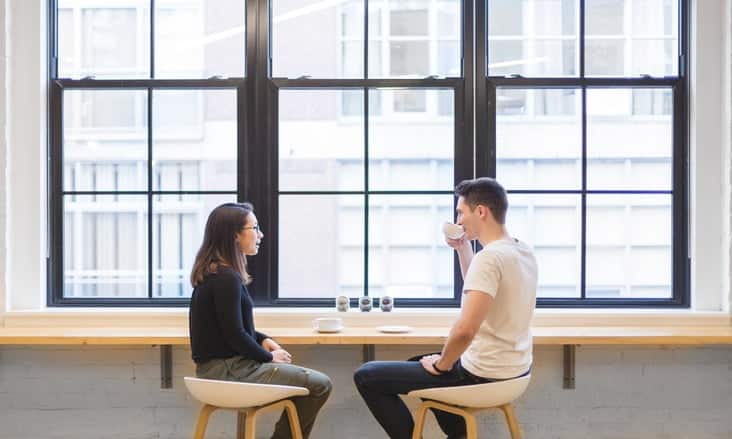 Being an attractive man is one thing but becoming a chivalrous gentleman is another. 
No girl likes a man without manners. Treat her well as a lady. 
The smallest of gestures often make the biggest impact. 
Simple things such as offering her a seat to rest, or holding the door for her to pass through. 
Be polite and respect her if you want to get a girl's attention. 
Show it to her that you care about her choices.
She will see you as a man that is deserving to give her affection. 
Chivalry is not dead, but rather is a key aspect that many men seem to forget.
6. Flirt and Poke Fun At Her
Dates can be nerve-racking when you lack experience with women. 
You might struggle to say the right words or be unsure of what to do at the right time. 
Don't overthink your actions and be yourself! 
See her as any other friend that you hang out with. 
If you want to get a girl's attention, be brave enough to tease and poke fun at her. 
Many guys are afraid to do so, as they risk offending the girl. 
The truth is girls, take it much better than we think. 
By teasing and poking fun at her, you are letting her know it is alright to let loose. 
If you succeed, you are bound to bring a smile to her face! 
But be careful not to overdo it, as teasing that is overboard is never a good thing. 
Check out our guide for the best tips to flirt with your date.
A date needs to be light and fun, so keep it that way!
7. Be Relaxed Around Her 
Remember this, your body language is like a reflection of your inner thoughts. 
If you appear to be uptight and stiff, you will end up making the girl feel awkward around you. 
If you are rigid and too serious when conversing, you are gonna portray yourself as a no-nonsense kind of guy. 
And what would that result in? 
She's gonna deem you as a boring guy.
And definitely not see you as a potential lover candidate. 
So make sure to relax when you are around her. Treat her as an equal. 
Yes, you might have feelings for her but she is also a person you want to know better. 
Friendships, relationships, all start from knowing the person. 
By being relaxed, you will make her feel comfortable with your presence.
Make her comfortable and she'll be more willing to share more about herself.
8. Maintain a distance
When you interact with a girl you like, it's normal to want to stick close to her and get in her graces. 
But, that is exactly what causes most guys to fail at attracting a girl! 
It is good to be caring and considerate of the girl.
But NEVER overdo it! 
There are so many guys out there that fawn and revolve around the girl all the time. 
Hoping that the girl will reciprocate their advances and goodwill. 
Think about it… are you going to get a girl's attention by revolving around her? 
NO! You are just making yourself seem like an intrusive and desperate man. 
Girls do not dig that one bit. 
You need to make your presence known.
But at the same time, keep a distance between you and the girl. 
This is the best way to get a girl's attention! 
If she sees you every single day, she's bound to get bored even before affection can develop. 
Let her initiate sometimes, and don't keep yourself always available for her. 
Keeping a distance would mean that you'll still be a mystery.
Be someone she needs to put in the effort to figure out.
More Dating Tips & Tricks To Get The Girl
Getting the girl to fall for you can be straightforward, but there are a lot of things you need to get right. Use these articles to further up your dating game:
To sum it up
Every girl is looking for the perfect fit.
To find the man that has both appearance and personality. 
But we cannot deny the fact that appearance is what makes her notice a man in the first place. 
Therefore creating a great first impression is the building block to getting a girl's attention. 
Everyone has qualities that they should be proud of, so stand tall and be confident. 
Only after you made a lasting impression on her, will you have the chance to know her better. 
And also for her to know your personality and who you really are. 
It might take some time and effort to build yourself up.
But when it's done, the result is definitely worth it! 
So go out there, and know that you can get a girl's attention.