15 Ways To Make Your Girlfriend Happy
When's the last time you saw your girlfriend smile brightly?
The passion, excitement, and love you felt at the beginning of the relationship. 
And then you realized your relationship dynamics have changed.
The honeymoon phase is over, and your relationship lost its flavor with time.
If that is you, you've come to the right place!
This article is dedicated to men already in a relationship. 
If you're a guy searching for tips to make a girl happy so she falls for you.
Check out these 18 tips on how you can get the girl to like you instead.
Now back to the topic on hand.
How do you make your girlfriend happy?
The little things matter. You being attentive and doting beats any display of love. When you care, do it without expecting anything in return. Let it come from your heart and be genuine. 
We will be sharing 15 ways you can use to make your girlfriend happy.
But before that, let's talk about the foundation of a happy relationship.
Foundation To Make Your Girlfriend Happy
There's a plethora of wisdom out there.
For you to find out what can be done to make your girlfriend happy. 
Yet countless guys claim it's impossible to understand what a woman wants. 
And struggling to make their partner happy.
In reality, it's not as complicated as it seems!
Here are 3 building blocks for a blissful relationship. 
The foundation to make your girlfriend happy.
It's The Little Things That Matter The Most
Society created the myth where only big gestures can make your girlfriend happy
To put in effort for the big occasions, and make it as grand as possible.  
Like buying her a diamond necklace or taking her on a trip to Paris. 
We guys believe that is what it takes to make your girlfriend happy. 
But there are still so many instances where guys find themselves in an unhappy relationship.
To make your girlfriend happy, it's often the little things that matter.
Focus on the little things instead of big gestures. 
Pay attention to her needs and be her reliable support. 
By adopting this attitude, she'll feel that you truly care and love her.
Give Without The Expectation Of Receiving 
Sources state that men are more interested in objects and things rather than people and feelings. 
They tend to perceive relationships as small transactions. 
Tendency to do things (even for their partners) in a give and take fashion. 
On the other hand, women dedicate themselves emotionally when in a relationship. 
Most guys have a thought where we give and expect something in return.
However, that'll make the girl feel the love and care received is transactional.
If you want to make your girlfriend happy, don't expect anything in return.
You love her and that is why you care. Simple as that.
Surprises Work Best When Given Without Occasion
To make your girlfriend happy, do something when she least expects it. 
When you give her a surprise without context, it makes the surprise meaningful.
Your effort for the relationship should not be restricted to occasions.
Be willing to put in the extra thought to make your girlfriend happy.
Think about it… although it's sweet to receive a surprise on Valentine's Day.
Every couple is expecting that surprise.
When you give her a surprise without context, that is when she'll be truly moved.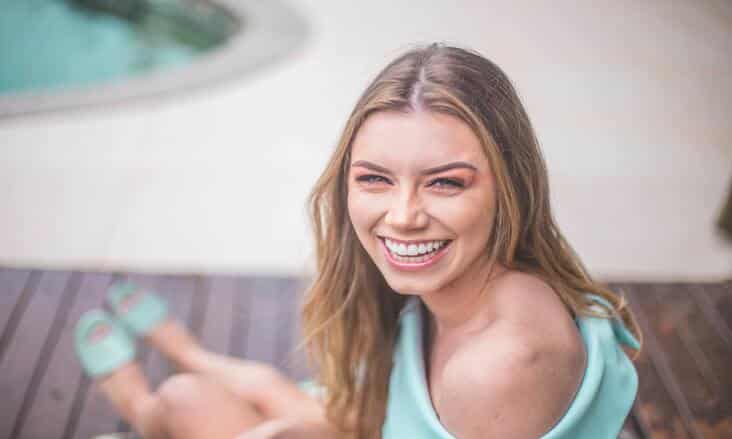 How To Make Your Girlfriend Happy – 15 Ways
We've laid out the three building blocks to a happy relationship. 
And now you know making your girlfriend happy, is not as complex as it seems.
Let's look at 15 actionable ways you can make her happy:
1. Revisit Fond Memories 
The honeymoon phase carries the sweetest memories in any relationship.
But who's to say that those memories can't be revisited?
To make your girlfriend happy, bring back that honeymoon phase.
Try to recreate the many firsts in your relationship.
Revisit the city where you had an amazing vacation a few years ago.
Or take her to the place where y'all had your first kiss or your first date. 
You'll notice that simply revisiting the wonderful memories.
Will bring back those butterflies in her stomach and a twinkle to her eyes.  
2. Thank Her For The Things She Does
Simple gestures like saying "thank you" can go a long way. 
A good woman completely devotes herself to the relationship. 
She cares for you, cooks for you, and nurses you back to health when you're ill. 
These are just to name a few instances.
A simple "Thank you" will make her feel appreciated.
Appreciation is something so crucial but often taken for granted. 
There are so many cases where women are not appreciated, despite dedicating their time and energy. 
Research suggests that these unappreciated women tend to be very unhappy throughout the relationship.
And many of them might even initiate to end the relationship. 
If you do not want to push your girlfriend away, a simple gesture is all it takes.
Acknowledge her efforts and love, and make sure to thank her for it.
3. Cook Her Some Love
There's an old saying: "The way to a man's heart is through his stomach".
Eating a home-cooked meal by a loved one will warm anyone's heart.
Nowadays, it's no longer common for everyone to know how to cook. 
If you're looking to make your girlfriend happy, it's time to bring out your chef's hat.
You don't have to be great at cooking and able to whip out delicacies. 
Simply, pick a recipe that your girlfriend loves. 
Even if the taste isn't perfect, this is an act of love that will touch her.
She'll feel like the luckiest girl on earth. 
4. Eyes On Her When She's With You
Do you find your girl trying to gain your attention when she's with you?
She's already beside you, why does she need your attention?
Often we guys will be preoccupied with our own activities.
Be it video games, work, or social media, etc. 
To make your girlfriend happy, keep your eyes on her when she's with you.
Make it a point to dedicate your full attention when she's beside you. 
Don't let her be the one seeking your attention. 
She wants you to show her that you care and that she matters to you.
Make your girlfriend a priority and don't neglect her EVER.
5. Care For Her Friends and Family
You may love your girlfriend, but is that all? 
Everyone will have people they care for, people that are close to them. 
To see her friends and family happy is very heartwarming. 
Make it a point to care for her friends and family. 
All those that are important to her, are akin to an extension of her.
Be willing to attend gatherings and celebrations when she asks you along. 
It will mean a lot to her when you're putting in the effort.
If you truly love her, be ready to love the people important to her as well.
6. Give Her The Chance To Lead
As an individual, she also has her own aspirations, desires, and opinions. 
Even though you're the guy, give her space in the relationship to lead.
Giving her the chance to lead can mean many things. 
From letting her foot the bill at the restaurant or planning a pre-paid vacation.
If she wants to take the lead, have faith in her and let her lead. 
It's not simply giving her the chance to lead…
You're letting her know that you trust her judgment and accept her opinions.
Mutual respect and trust are what will make your girlfriend happy. 
7. Be a Proper Gentleman
Chivalry should never be forgotten. 
Even if she's your girlfriend, and loves you enough to overlook it.
It doesn't matter how many years you are together. 
Be a proper gentleman and treat her right.
Gestures such as holding the door, or pulling her seat. 
Simple as it sounds, it's a world of difference in treating her right.
These gestures are acts of love that show your care for her.
8. Make Her Emotionally Secure
The foundation of any relationship is 2 things: Mutual communication and trust. 
It's never a good idea to let your girlfriend wonder if the relationship is secure.
The fact that she has such thoughts, means it's time to do something. 
If she's insecure, it'll lead to her becoming possessive and untrusting. 
No one can feel happiness under such conditions. 
Your relationship will also take its toll. 
Always be ready to give your girlfriend assurance and let her know your love.
Don't give her the chance to doubt the relationship.
Check out this article on how to make your girl more emotionally attached.
9. Be an Active Listener
A common complaint among unhappy girlfriends is that their partner doesn't listen.
If your girlfriend has such a complaint, it's time to correct it.
What exactly does it mean when they say that? 
Is it simply sitting there and hearing her out? Not quite.
It is not as simple as listening to her and brushing it away to do your own stuff. 
Anyone can do that. 
Active listening means that you take the time to process her words. 
To have mutual communication where you're listening and giving her the advice she needs.  
Let her know her voice is heard, and you're there to listen to her woes.
10. She's Beautiful? Tell Her
When's the last time you complimented your girlfriend?
Can you think of one person who doesn't feel happy when receiving a compliment? 
Always make sure to tell her how special she is to you. 
Be it her new hairstyle or she's wearing a new dress.
Your sincere compliment will melt her heart, so don't hold back!
When the compliments come from you,  it'll empower her.
Make your girlfriend happy, and don't be stingy with compliments.
11. Ignite The Passion In Bed
This is a problem that many long-term couples face. 
Comfort and stability in the relationship come with time.
But it is also where passion and sexual tension becomes diluted 
Everyone has needs, even women. 
Women are often shy in expressing themselves.
When craving physical intimacy with their boyfriends. 
If intimacy in the relationship is lacking, it's a big issue.
What better way to make your girlfriend happy.
Then to show how much you want her?
12. Be Sure To Cherish Her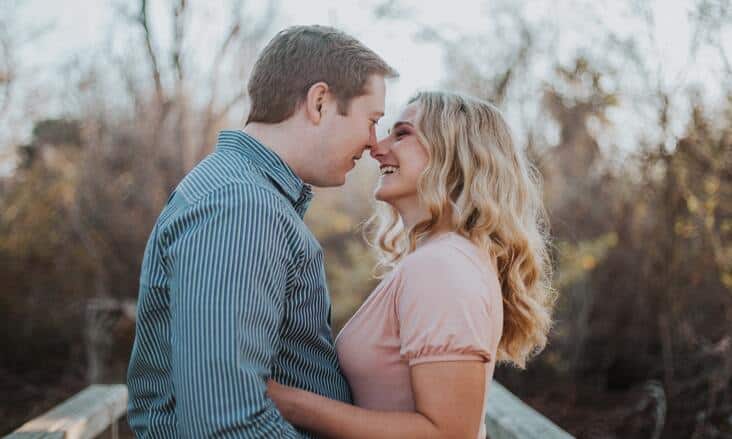 She's giving, caring, and she's a keeper. You know that. 
That's why you love her so much.
So be sure to cherish your girlfriend and never take her for granted.
Show her with words and actions, how grateful you are to have her.
Let her know that everything she's done… 
Her acts of love, her dedication, her sincerity and care, you cherish it.
Never take her for granted, and love her with all your heart.
Actively strive to keep her in your life. 
Only with constant effort, can both parties walk the path together.
13. Put Down Your Ego 
Most guys have a certain level of ego that they can't let down. 
However, when you're egoistic towards your girlfriend, it becomes destructive. 
Letting your ego get in the way will often make things much worse than they already are.
Arguments can often be resolved with compromise from both parties. 
But when your ego stops you from taking a step back…
The argument will only get bigger, making both parties unhappy.
14. Remember Her Preferences
She's someone really important in your life. 
You may know that for a fact, but women need more assurance. 
To make your girlfriend happy, remember her preferences.
Make it a point to remember her likes and dislikes.
Be it her favorite foods, favorite colors… make sure to remember all of them. 
When you put in the effort to remember, it gives a clear sign that you care.
It'll enforce the fact that she's truly the one in your heart.
15. Plan For Random Dates
Even when you're in a relationship, romance shouldn't be dead. 
No matter what stage of the relationship you're in.
Quality time spent is important to nurture your connection. 
Make sure to plan dates despite being in a long-term relationship.
Random dates to surprise her and bring her to explore new places.
It brings excitement and thrill to the relationship and keeps the love alive.
This is the surefire way to make your girlfriend happy.
More Dating Tips & Tricks To Get The Girl
To make your girlfriend happy can be a straightforward process, but there are a lot of things you need to get right. Use these articles to further up your game:
To Sum It Up 
It doesn't matter how long you've been in a relationship.
The fact that you two are together means that love is there.
As a man, you'll stop at nothing to make your girlfriend happy.
After all, she's the one that's been there through your ups and downs.
Appreciate her, love her and cherish the girl you have in your life. 
So there you have it! 
Our guide on the 15 ways to make your girlfriend happy.
Cheers to your happily ever after.