Date A Woman With Low Self-Esteem – 5 Proven Methods
Do you find it hard to make her happy? 
No matter what you do, she's always the selfless one giving in.
You love her, but just wish she can look at the brighter side of things?
If YES, then you're in the right place.
When you date a woman with low self-esteem, it can be challenging. 
She is sensitive, she's shy, and can be insecure at times.
While these traits of hers can be cute in moderation.
It becomes problematic when your relationship is affected.
Sources state that low self-esteem in a woman can impact relationships.
Her needs are not met by their partner.
Because she feels she doesn't deserve to have her needs met.
So how do you date a woman with low self-esteem? 
Treat her delicately and shower her with love. Never approach with the mentality to help, but be there to support her. Never compare her love to others but accept and love her for who she is. 
Before we talk about how to date a woman with low self-esteem.
You need to understand the signs of low self-esteem in a woman. 
It may be hard to pick up as she's prone to bottle up her feelings. 
Everything starts from understanding and noticing the signs.
Signs of A Woman with Low Self-Esteem
Most are not familiar with the concept of a woman with low self-esteem. 
You may have a rough idea.
But here are some tell-tale signs that indicate low self-esteem in a woman. 
1. Difficulty In Prioritizing Her Needs
She does not think twice about helping others. 
Even at the expense of her own needs. She's selfless to a fault.
It's very difficult for her to prioritize her needs before anyone else.
From time to time, you will find her putting herself down.
Just so that she can please and make others happy. 
While being selfless is respectable, there should be a limit. 
She doesn't draw the line to take care of her needs, before caring for others. 
It pains you to see her doing this to herself constantly.
But she just does not know how to care for herself.
2. Saying Sorry For Everyday Actions
She has the habit of apologizing profusely. 
It doesn't matter if she's really in the wrong, or her own perception that she's wrong. 
She will not hesitate to apologize on a whim. 
Blaming herself for causing you displeasure and unhappiness. 
Pay attention and you might find it happening too often.
She overthinks the situation and comes up with incomprehensible scenarios in her mind. 
You might not even think it's such a big deal.
But she blames herself for it and apologizes.
She's harsh on herself, and at times place you at a loss of what to do.
3. Views Herself As Undeserving
All that love and care you showed towards her.
It makes her truly happy and touches her heart.
But deep down she believes she is undeserving of such acts of care.
Whenever you care for her, underneath her smile is self-doubt. 
She's questioning herself if she deserves such love from anyone. 
The reason behind this is the lack of self-value.
She doesn't know how to respect her own feelings.
And this can be due to past experiences that traumatized her.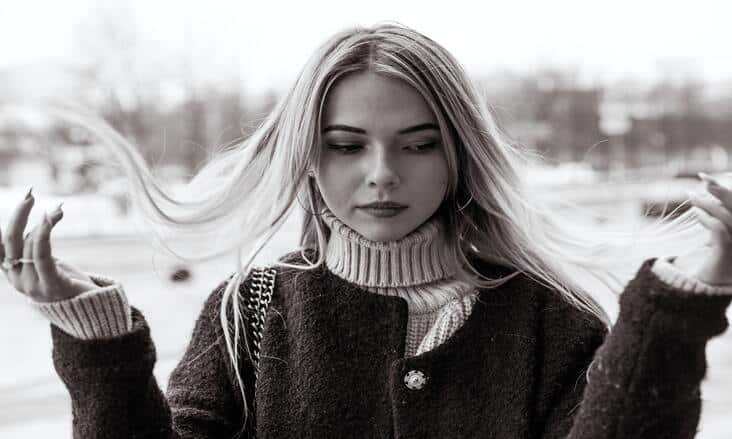 How To Help A Woman With Low Self-Esteem 
There's a way to make a woman with low self-esteem feel better. 
However, it won't be a quick process.
With the right mix of love and affection, she can gain back what she lost.
Note that this is something she has to work on, in her own way. 
You should not approach this in a way that you want to HELP her. 
Let's make it clear… a woman with low self-esteem does not have a problem.
NEVER think for a second that she's different from any other girl. 
If you really want her, accept her and love her for who she is.
That's what matters.
Stop trying to help her by "fixing" her. 
It will only make her feel worse.
Loving a Woman With Low Self-Esteem
Loving a woman with low self-esteem is no easy task. 
You tried your best to love her, but you don't see any positive change. 
You're frustrated, you're drained but just can't bear to see her so. 
Here are some tips you can use when loving a woman with low self-esteem.
1. Be Patient With Her
You have to learn to be patient with her.
There will be times when she's hard to love. 
Especially when she's dwelling in self-doubt.
And is oblivious to your care and concern.
She might act or say certain things which unintentionally hurt you. 
And push you away in the process.
Even when you only have her interests at heart. 
You need to understand that what you do might seem sweet to you, but she perceives it differently. 
What really matters is not what you do, but how she feels about it. 
She's a vulnerable soul that has a tender heart.
So you need to be extra careful with her. 
Choose to accept and comfort her, and love her harder for who she is.
2. Be Her Strongest Shield
You need to become her strongest shield. 
Whenever she feels down or feeling negative in her life, be there for her. 
It could be against certain people or situations that hurt her. 
This is where she needs you to support her the most. 
Her inner feelings, thoughts, negativity all can get the best of her. 
To the point, she can't breathe and gets overwhelmed
Be her shield and let her know you are someone she can depend on.
You need to show her, you're worthy of her trust. 
And that you'll always be there to love her regardless. 
3. Be Objective When She Cares For You
There will be moments where you feel her concern is suffocating. 
It is very different from other forms of love that you are familiar with. 
When a woman with low self-esteem shows her love, she gives her all.
To the extent that it can become excessive and sacrificial. 
You might even wonder… How can someone love in this manner?
At this point, it's best to be objective. 
Know the signs when a girl loves you.
The things she does for you are selfless in their purest form.
She's not expecting anything in return but just wants you to be happy.
Be sure to acknowledge her love whenever she does anything for you. 
Accept it graciously and return her love with yours.
How To Improve Low-Esteem For a Woman
Low self-esteem can be harmful to the relationship. 
You already know that for a fact.
It is a tough process but it is not impossible. 
Make it happen by giving her the right support when needed.
4. Give Her Lots Of Positive Reinforcements
Self-doubt is something that she has to face every single day.
Be it her actions, her words, or even just her presence; she'll have doubts.
You have to acknowledge that she's lacking in confidence. 
Support and give her confidence in everything she does well. 
Do not hold back on your compliments and reinforcements. 
It could be her smile, a selfless act of giving, or that new dress she's wearing. 
She's a sensitive soul that needs tons of positive reinforcements.
She might smile wryly when receiving it, but every compliment counts.
5. Never Compare Her To Others
Consider that she's a woman with low self-esteem.
So. you should NEVER compare her to others.
It might be a thoughtless comment, and you didn't intend to hurt her.
Know that when you're someone that matters, your words carry a lot of weight.
She will take your comment very strongly, and make her feel inadequate.
It will make her feel she's not enough, despite her love and efforts.
Comparison of any kind in a relationship is bad taste. 
Especially for a woman with low self-esteem.
She'll view it as you do not approve of her.
In the end, it'll sabotage your relationship and push her away.
Avoid comparing her with others, at ALL costs.
More Dating Tips & Tricks To Get The Girl
Getting the girl to fall for you can be straightforward, but there are a lot of things you need to get right. Use these articles to further up your dating game:
To Sum It Up
It's without a doubt that loving a woman with low self-esteem is challenging. 
However, her nature is also one of the most giving and loving.
It's bound to be different, but you just need to put in a tad more effort.
A relationship is a two-way street.
How much you're willing to put in to love her.
Is how much she'll love you in return.
So there you have it! 
Our tips on how to date a woman with low self-esteem.
Treat her tenderly, treat her well.
And you'll be surprised at how strongly she will love you.