How To Kiss a Girl For The First Time – 7 Must-Know Tips
When you kiss a girl for the first time, it can be intimidating.
But if you get past that hurdle, it's an incredible experience. 
When you are to kiss a girl for the first time, it matters to get it right. 
It is the first step to building intimacy and a well-placed kiss goes a long way to establish a relationship. 
If you're afraid of getting rejected when going for a kiss.
Then you'll know having a technique to move in for the first kiss is crucial.
So how do you kiss a girl for the first time?
Watch out for the cues that the girl is exhibiting while setting up the mood. When the moment is right, do not hesitate. Lean in for your first kiss and relax your lips when it touches hers. Control the use of your tongue and hold her close. 
Why Is It Important To Get The First Kiss Right
The worst place to face rejection is when you're going in to kiss a girl for the first time. Why?
 1) You've invested a lot of TIME in this point of interaction. 
 2) Screwing up your first kiss can ruin all chances of further seduction.
Most guys don't have the chance to learn how to get it right when going in for the first kiss. 
The reason being, it's not something you experience often!  
To learn it right, most guys have to face a ton of rejections and learn from painful experiences. 
Just to pick up the tips one by one for the best way to kiss a girl for the first time.
How To Kiss a Girl For The First Time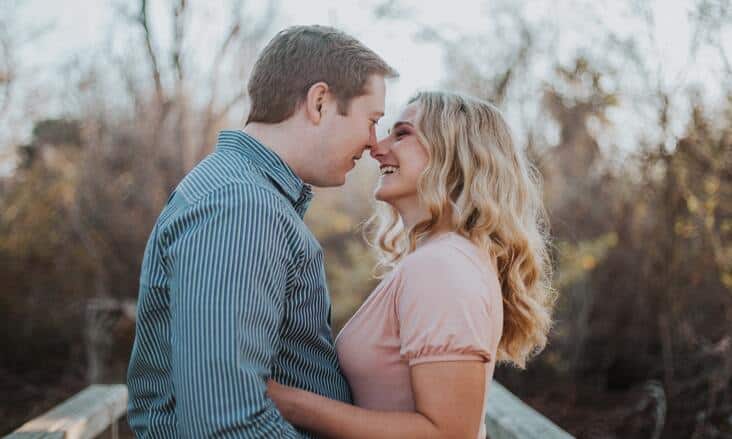 Multiple factors come into play.
When building up to kiss a girl for the first time.
The readiness of the girl, how you set up for the kiss… it all matters. 
You need to understand how to identify the cues.
To make your first kiss a successful and memorable moment. 
1. Gauge The Girl's Readiness  
Before you kiss a girl for the first time, look at her body language.
The first indicator is when a girl is looking down. 
When she looks down often, she is trying to access her emotions.
Let me explain further… When we look in different directions, we access different parts of our brain. 
The term is called "Eye Accessing Cues."
If she makes eye contact with you, then she looks down and then back up again. 
She's trying to say: "I have an emotional response to you when you're looking at me"
And if she goes even further to tilt her head downwards, she's showing signs of submission. 
That means that she's ready to submit to you, and less likely to reject your first kiss.
2. Set The Mood For The First Kiss
You can give off subconscious triggers that will make her think about kissing you.
So how do you do it?
As you two are having a conversation, slowly lean in for the first kiss. 
Keep your gaze at her eyes and then down to her lips and then back up to her eyes again. 
This is what you call "Triangular gazing." 
Do this multiple times to build rapport and look to move in for the kiss. 
This action anchors to the thought of kissing someone. 
Is she looking at your lips? 
If she's looking at your lips and seems to be comfortable and excited.
Then you have a green light to go forward. 
Make the girl want you, to greatly increase your chances of success.
If she's looking at your eyes, you may want to wait a second.
This is when you're getting some resistance. 
Break her focus, give a smile and then try again.
3. Never Show Hesitation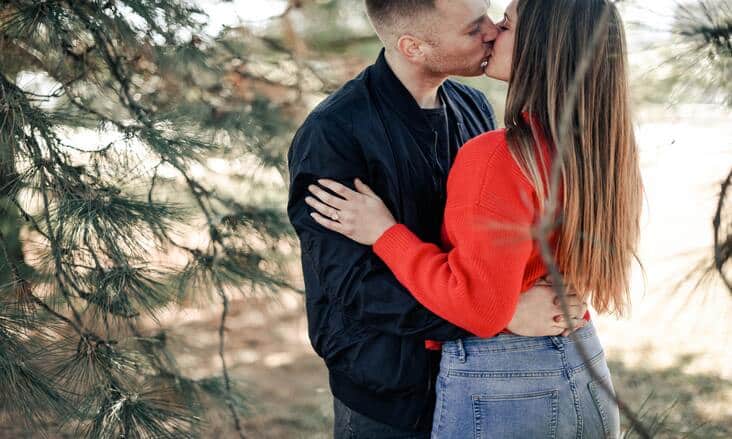 There's a tried and proven formula: Your hesitation = Her reservation
The more you hesitate, the worse your chances will be. 
She will start to show all sorts of red flags and reservations because of your hesitation.
The biggest mistake is when you kiss a girl for the first time.
You don't do it the right way and at the right time. 
You'll then come off to her as needy (As though you are a total beginner with women). 
Girls know this because if you did have a ton of experience, you wouldn't hesitate and worry about the kiss.
So what you need to do is to catch the signs when she is ready.
Steel yourself and lean in to kiss a girl for the first time.
By not showing any hesitation, you'll blow all her reservations away.
Kissing Tips You Need To Know The First Time
This might seem like something self-explanatory, isn't a kiss just a kiss?  
What's more, is there to it!
Yes, that might be true to a certain extent.
But there are a few things you need to get right when you kiss a girl for the first time.
1. Relax Your Lips 
Don't keep your lips tense and puckered up. 
The key here is to soften your lips so you can move and respond to her. 
Even though your lips are relaxed, you should not be a slouch either. 
When you're switching kissing positions, you need to be firm and decisive. 
What you want is to be the participant and ignite the passion between you two.
Instead of someone who's just idling by and letting her do all the work.
2. Tame Your Tongue 
The most common complaint girls have about men when they kiss, is that too much tongue is used. 
Using too much of your tongue makes you a sloppy kisser.
Not only that, it distracts her from the intimate moment. 
She would only feel an overdose of saliva and that is a big TURN OFF.
But too little use of tongue signals a lack of passion and can lead to boredom.
You need to strike a good balance between kissing and the use of the tongue.
To do so, follow her body cues. 
Her body language will tell you if she's into the kiss and tune your actions to suit her.
Take notice of her movements and change your momentum to suit her.
3. Hold Her Close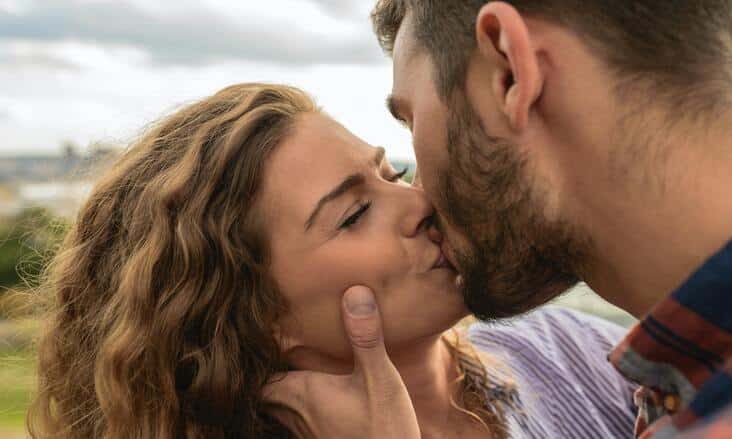 While kissing relies on your lips, you should not forget the use of your hands. 
A misplaced hand left dangling by the side can be really awkward.
There are many things you can do with your hands to make the moment much more intimate. 
Pull her in gently and hold her body close to you. 
Your hand should be placed around her waist or gently supporting her back. 
The most important part is to use one hand and run it through her hair. 
It acts as a guide and you're leading her to be more involved in the kiss. 
This combination ramps up the intimacy and makes her feel more attached to you.
4. Match The Kiss To The Mood 
Knowing when to kiss and the right way to do so is half the battle won. 
The next important step is to match the mood when you kiss a girl for the first time. 
If the setting is romantic and serene, a slow and intimate kiss is the right call. 
By keeping it slow, you are building up the intimacy and connecting at a deeper level.
But if the energy between you two is high and burning with passion, an active and strong kiss is the move to make. 
You'll make her feel the excitement and ignite the passion in her.
This is VERY important.
As the wrong type of kiss at an inappropriate time will lead to a drop in passion. 
The kiss will turn awkward and it'll be hard to salvage. 
On a side note
Do know that there is no such thing as a one fits all formula to kiss a girl for the first time.
Every girl and every circumstance you are in is different. 
If you go through with the motion blindly, you'll most likely ruin your chances. 
What you can do is to use this as a guide to give you a rough concept.
But when you really do get to kiss a girl for the first time.
You'll need to improvise to suit the situation. 
It's up to you to make an impression that lasts!
More Dating Tips & Tricks To Get The Girl
Getting the girl to fall for you can be straightforward, but there are a lot of things you need to get right. Use these articles to further up your dating game:
To sum it up 
So there you have it!
Our guide on how to kiss a girl for the first time.
It will take some practice to figure out the cues. 
But once you get the hang of it, you'll be able to know with confidence the right time to make the right move.
You'll become the assertive but perceptive man that women can't resist. 
She'll feel like you know how to treat a woman right and is able to give them what they want.
In doing so, they will feel safe in progressing further with you. 
Just set the mood right for the first kiss and you're good to go!