How To Keep A Girl Interested Through Text – 7 Rules
Ever met a great girl, but after a few weeks of texting, never hear from her again? 
Many guys struggle with keeping the girl interested through text. 
In this day and age, it's very different from sending letters in the past.
The way of expression can't be compared to meetups or conversations over dinner. 
You may be lost in conversation for one moment, and zero replies the next. 
So how do you keep a girl interested through text?
Match her pace of texting, if she is taking some time to respond, do not reply right away. Keep your texts short and light; 2 to 3 sentences in a single text message. Make sure not to delve into serious topics and keep the conversation light.
Let us delve deep into understanding the art of texting and what it takes to be good at it.
How To Keep a Girl Interested Through Text
Most guys tend to forget what texting is all about.
And that is warm up the girl so that she'll be receptive during the date. 
Everyone would try their best to keep the conversation going as long as they can.
But how many actually can get the girl interested through text?
There is more to texting than simple words. 
Online dating is not restricted to getting the girl interested through text.
Don't forget Facebook / Instagram which revolutionized how we connect with potential dates.
Here are 7 golden rules that'll make the girl interested through text.
1. Less Is More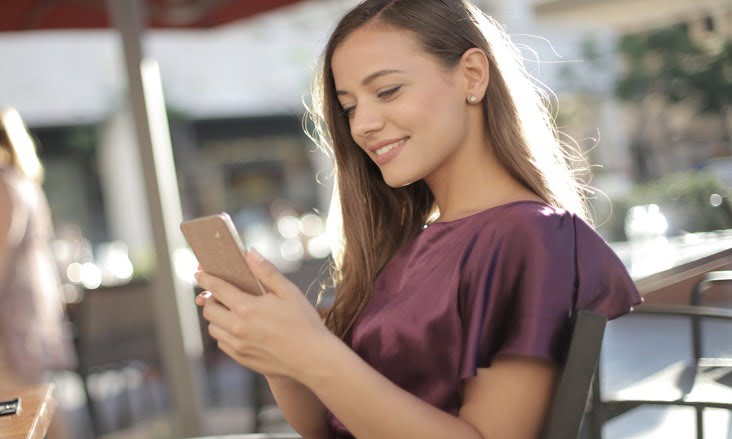 When it comes to getting a girl interested through text, less is definitely more. 
It is easy to send a ton of text messages to someone new due to excitement and thrill. 
However, this is where a lot of conversations go downhill.
You might even wonder why the girl has ghosted you out of the blue.
The reason is actually very simple. 
If you keep going on and on… how long does she need to know enough about you? 
When that happens, you would have lost your novelty and it becomes boring.
In the process, you'll also be coming off as a little too needy. 
This is not the stage you want to be in. 
Never make it seem as though your life revolves around someone you've met. 
No way can you be clingy if you want to keep a girl interested through text.
Textless and you'll actually start to make her miss you more.
However ironic this sounds…
2. Give Her The Stage
It is normal to feel a little shy and nervous when you first know someone. 
To the point, you might get carried away talking about yourself to fill any conversation gaps. 
But don't do that!
By letting the girl express herself, you will come across as a great listener. 
By listening more, you will start to really understand her. 
And this will help you to bridge and continue the conversation much more easily.
These are key skills for any relationship.
And will also prove most helpful when you two finally decide to meet in person.
Any girl will feel special if they get to talk about what they love.
Let her take the stage and express herself; to keep the girl interested through text. 
Don't you always hear girls comment that they appreciate it if their date is a good listener?
They have a voice and want to be heard. 
Understanding this will become your greatest advantage over other guys!
3. Don't Jump The Gun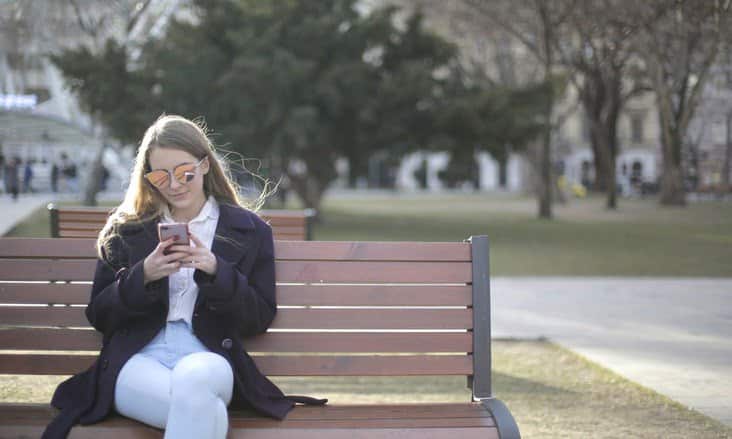 We all know men's and women's minds work very differently. 
It has been proven time and time again.
To this extent, there's a book titled "men are from mars and women from venus". 
Whilst getting to know someone, it's very easy to overthink and read over past conversations. 
The very thought of not receiving prompt replies will drive you crazy.
And that's also where the overthinking begins.
Don't think too much about anything that has been said.
Or get too ahead of yourself planning the future. 
Let it flow naturally and for the process to develop and nurture on its own. 
It is in fact one of the most exciting phases when getting to know someone. 
So remember to enjoy it to the fullest. 
Don't stress yourself out with the unknown.
But rather pay more attention to things you can control – enjoying the conversation with the girl!
Take things slow and steady and you'll keep the girl interested through text.
4. Don't Lose Yourself
When meeting someone new, it can be tempting to drop your routine to accommodate her needs. 
You are out to woo her, trying all means to impress her.
To the point, you might even change your personality to suit her.
But you have to remember, individuality is important for any relationship. 
By constantly accommodating to her, you will not get the girl interested through text. 
You're just showing you have no other hobbies or interests aside from texting her.
Never sacrifice your own individuality for someone you've just met. 
It is important to continue with your daily activities and not let this steer you away.
Keep yourself engaged in your own life, you'll become more attractive to her. 
This is something I cannot stress more. 
Girls appreciate the fact that guys have their own life and interests to be involved in. 
It makes the guy so much more attractive. 
Rather than become a guy that is always hovering around her, lead your own life.
This independent trait will definitely make a girl interested through text.
How To Text a Girl To Make Her Smile
5. Be Positive
Your goal is to make her smile. 
Make her break a smile every time she sees a notification from you on her phone.
To do so, you'll want to keep your conversations light and upbeat. 
This will make her enjoy the time spent talking to you and want to continue doing so.
If you want to keep a girl interested through text, ward off all negativity when texting her. 
You may have a bad day, but get your emotions in check before texting. 
Negativity can spread and you do not want it transmitted to her. 
Leave all the serious topics to when you're with her face to face. 
You might think it's a good idea to talk right away if there's a problem. 
It is true, in theory, but the text is not the way to do it!
Why do you ask?
Because you can't see her expression, you do not know how she's reacting. 
This makes you slow in the uptake when conversation breaks down.
It's also common for miscommunications to happen and ruin everything.
Focus on texts that make her smile to keep the girl interested through text.
Instead of weighing her down with heavy topics!
6. Spice Up The Mood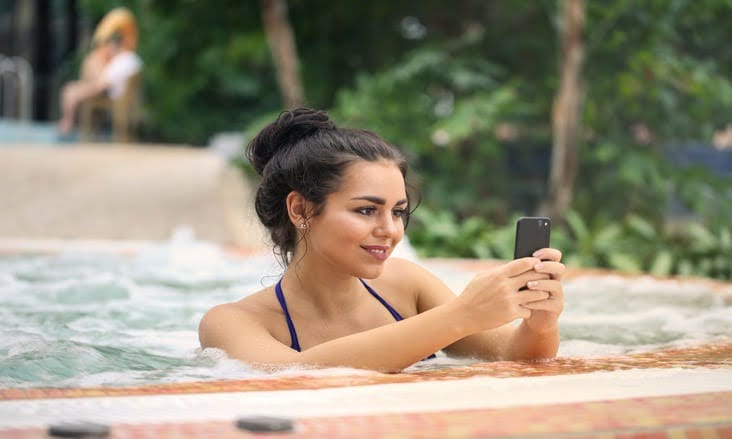 How often do you receive a text from her saying "How are you?" or "What are you doing?" 
Boring isn't it…
Women will often ask seemingly boring questions.
But that doesn't mean that they want a boring response from you. 
This is key! If you reply with a boring response, that's how the conversation will become. 
If you already know that she is bored, do something about it. 
To keep a girl interested through text, reply with a witty response!
Or something that's out of the ordinary! 
It's the best time to reverse the mood and bring a smile to her face. 
Just because she gave you a boring question, doesn't mean that you need to give her a boring reply.
You can reply with anything you want really, but make it playful, make it fun! 
Reply with texts that make her want you.
When she comes to you with a boring reply, it's a sign for you to spice up the mood.  
Give her a punchline that'll plaster a smile on her face. 
By doing this, you'll be ahead of the many other guys that are chatting her up! 
Here are more tips you can adopt to seriously up your texting game.
 7. Text With a Goal In Mind
Ask yourself this question… What's the reason you're texting her?
Is it to be her online pal, or is it to ask her out on a date? 
The answer should be obvious. 
Texting lets you know her better and gives you a chance to increase attraction.
However, many often get comfortable and forget about the purpose of texting. 
You can't stay complacent with keeping a girl interested through text. 
Chat her up with the intention to ask her out! 
Sound her out, get a grasp of her interests, likes, and dislikes.
Use the time you're texting her to understand her better. 
All this builds up to the point when you ask her out for a date! 
Even the best conversationalists make mistakes from time to time. 
Texting is a good way to communicate, but don't mistake it for a date or simple dinner. 
When you are with her physically, that is when you can really go about winning her heart. 
So what's the point of texting? 
By keeping the girl interested through text, she'll be more willing to share, opening up new topics.
And the biggest takeaway is now you know her slightly better. 
Use what you know to your advantage, and make your date an unforgettable one.  
More Online Dating Tips To Get The Girl
Online Dating is a wholly different playing field from traditional dates. Use these articles to further up your online dating skills and secure your date:
To sum it up
What if she is always slow when it comes to returning your texts.
Or do you have to double, even triple text to get her to respond? 
If this is the case, move on from her. 
Why waste your precious time on a woman who just isn't that interested. 
It could be she's looking for something else altogether. 
So, don't take it too hard on yourself. 
There's a ton of other women out there who will be interested. 
Keep in mind these 7 Rules on How to Get a Girl Interested through Text. 
Work on it, you'll see an immediate change in her responses to you.
Go ahead and show her the qualities of a man that stands out from the rest.
Soon enough she won't be able to stop herself from texting you. 
Have fun texting!