5 Signs a Girl Is Leading You On
Ever dated a girl for a while, and you thought everything was going well. 
But when you take things to the next level, she tells you that she only sees you as a friend?
As a guy, one of the most frustrating and heart-wrenching things is when a girl is leading you on.
Not surprisingly, this happens to quite a lot of us. 
While some guys pick up the cues fast, many don't realize it until it's too late.
A girl who's leading you on is not serious in the relationship despite her claims. Her mood fluctuates and has an ulterior motive for being with you. She only puts in effort when she needs something from you and has no regard for your feelings.
If you ever suspect something amiss.
And that the girl is leading you on, you need to look for the clues. 
If she shows genuine interest in the relationship, work together to build it up.
Otherwise, it will be better if you move on.
What It Means When a Girl Is Leading You On
There can be several reasons as to why the girl is leading you on
She's interested in another guy and trying to make him jealous by keeping you around.
She might have been infatuated, but got bored and now looking for other options.
You are a means for her to show off, based on certain characteristics that you have.
She enjoys the attention you are giving and wants you to continue providing for her.
She got out of a long term relationship, so keeps you there for emotional support.
It's important to know the baggage that comes with dating a girl who just broke up.
What's listed here are the more common reasons and there are many more.
However, one thing is definitely certain. 
She's not serious about dating and prolonged time in this relationship will hurt you.
How To Tell If a Girl Is Leading You On
So how can you tell if a girl is leading you on?
Here are some signs you need to look for:
1. She's Only Free When Its Convenient 
The easiest way to determine if the girl is leading you on.
Is to see if she makes time for you. 
Is she only free when she has no plans for that day? 
Does she only look for you when all her friends are busy?
You should notice a red flag when a girl makes up excuses to flake you on dates.
Just because her friends asked her out. 
If she does this often, there is a high chance that she's leading you on.
Even if she does agree to meet you, it is only when it is convenient for her. 
This is important because a girl that cares for the relationship will prioritize you. 
She's free to go out with her friends.
But she should also put in the effort to make time free for you!
2. Manipulates Your Insecurities To Get What She Wants
If a girl taps on your insecurities to get her way, she's exploiting your weakness for her. 
This is another signal that the girl is leading you on.
Taking you on an emotional roller coaster to trick you into fulfilling her needs. 
For instance, she mentions how her ex-boyfriend gifted her expensive items on her birthday. 
She goes on with those puppy eyes that he's so sweet.
And she would love it if you do the same.
At that point, you would probably cave in.
And spend a lump sum of money to buy the gift as you're afraid to lose her. 
In a similar context, when you are with her friends.
She announces that you are taking her to an expensive vacation spot.
All her friends will cheer, stating how sweet of you to do that. 
You're caught by surprise but since the word is out, you can't deny it.
If this happens a lot, you'll need to rethink the relationship.
There's a high chance that the girl is leading you on.
3. Seeks The Attention Of Other Guys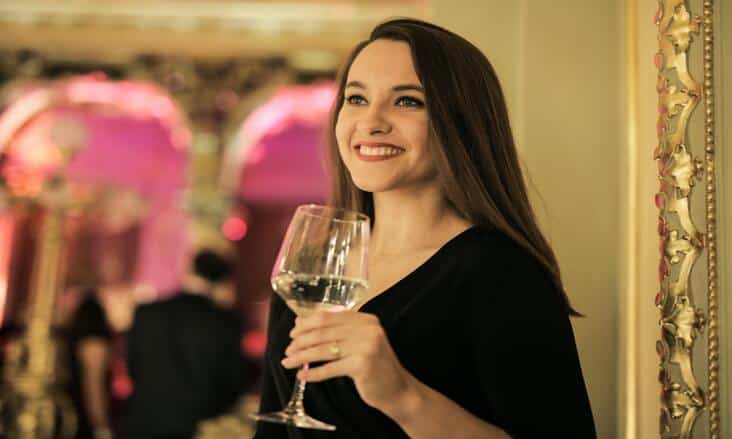 Eye contact is a great way to figure out if the girl is into you.
She's out with you on a date, but instead of looking at you, you catch her glancing around. 
You need to pay more attention to what she's looking at.
She might be passing flirty glances to other guys, even when she's with you. 
This means that she's not committed and still evaluating her options.
Think about it for a moment…
If a girl likes you and is spending time with you, her eyes will be full of endearment. 
If she's stealing glances at other guys, even when she's with you, what if you're not there?
This is a clear sign that the girl is leading you on.
4. You Give Your All, But Nothing Comes Back
You do your best to make her happy. 
You give her presents, remember her birthday, drive her around, dress up for her, and even spend on dates.
But what does she do in return? 
It is not right to expect the other party to return the effort. 
But if you feel that she is not making any effort, then she might be leading you on.
She doesn't express any gratitude, shows zero excitement on a date, and ignores your feelings for her. 
Love indeed has no comparison.
But you should also not feel as though it is a one-way street.
5. Sets Boundaries Which You Cannot Cross
She tends to set boundaries on how you two are supposed to act. 
She might want you to keep the relationship private.
Or not show affection when you two are in public.
When you lean forward to kiss her, she brushes you away. 
You try to take her hand, but she avoids your hold. 
All these little things add up to show you that she is reluctant to show the relationship to the world. 
She wants to keep your relationship with her private.
Is this how it should be? Think about it… 
She might not be the most touchy person in the world. 
But is she the type of person to set such strict boundaries?
To the point that she flares up when you cross them. 
That will be something that you need to ponder about. 
Is there a reason for her to do so? What is she trying to achieve?
What To Do When She Leads You On
If she displays the signs above, then there's a high chance the girl is leading you on.
Now that you know the signs to watch out for, what should you do?
How do you escape this predicament and save yourself from this toxicity?
1. Let Her Know Your Intentions
Talk to her, go confront her. 
Be clear when you are telling her that her actions are hurting you. 
Make sure she gets the message across on how you feel.
Highlight the points where you feel her actions are not being fair to the relationship. 
She needs to come to an understanding that if she does not change, it would mean the end.
Let her know the importance of change if you two are to continue the relationship. 
You need to be assertive when you take this stance. 
Do not back down when she starts to blame you for her actions. 
It's highly likely she will do so when the girl is leading you on.
2. Walk Away, Don't Turn Back
If she shows regret and wishes to change for the better, then it's a good outcome. 
But if she tries to push the blame on you, or you do not see any change in her actions. 
Then it's best you walk away.
You need to be strong at this point. 
Remember that everyone deserves an equal chance at love. 
Don't be afraid that you will lose her. 
You deserve someone who treats you right.
Who respects the relationship enough to not play such games.
Related: How to Leave a Toxic Relationship When You're Still in Love
3. Learn From This Experience 
You're heartbroken but at least you came out of it. 
Do not lose hope but instead take a lesson from this experience. 
You may have fallen once but you're now able to avoid such situations in the future.
Come out of this as a stronger person who can have his head held high. 
She is not the only girl in the world, and losing her does not spell the end for you!
It might take you some time, no matter how long it takes for you to forget her. 
But look forward, and work on yourself.
You'll never know the girl right for you might be around the corner.
More Dating Tips & Tricks To Get The Girl
Getting the girl to fall for you can be straightforward, but there are a lot of things you need to get right. Use these articles to further up your dating game:
To Sum It Up 
A relationship can only blossom when both partners have mutual respect.
If the girl is leading you on, then it's best to end it.
Do not come up with excuses for her actions.
As she is not sparing a thought for your feelings. 
There is a difference between playing hard to get, and when the girl is leading you on. 
You need to identify the difference and not let her take you for granted.
Even guys need assurance, comfort, and attention from the other party. 
If a girl denies you of these, then the girl is leading you on. 
Not saying you're wrong to love her, as that is your own right. 
But to spare you the heartbreak… it'll be better for you to move on.
If you ever find that the girl is leading you on.